Tommy Hilfiger logo tee (comes in tons of colors!), Levi's Wedgie Icon Jeans (also here), Jack Purcell sneakers (keep in mind they're unisex! Similar Converse here!) and Ray Ban 53mm Icon Sunnies, MAC Lady Danger lipstick, old hoops (similar by Baublebar!)
Let's be honest–I'm not exactly one to follow trends that closely. Personally, I live by the Coco Chanel's philosophy of "Fashion comes and goes, but style lasts forever"–trends, on the surface, don't interest me much–but, of course, even I would be foolish to admit that I am in no way influenced by trends at all. (I always think about the "Cerulean Blue" scene from The Devil Wears Prada ?)
Honestly, I think what turns me off about "trends" is that so many of the ones we see coming out of Fashion Week and in all the fashion magazines are just unattainable–they aren't for us "regular girls"–you know? It's easy to write them off completely, but in reality, that isn't necessarily the case!
I get a lot of questions from readers about trends–and secretly, let's face it–we all want to be trendy–we just don't know how to pull it off in a way that makes us feel confident, comfortable, and suitable for our lifestyle–so, today I'm excited to talk about three 90's inspired trends that do JUST that!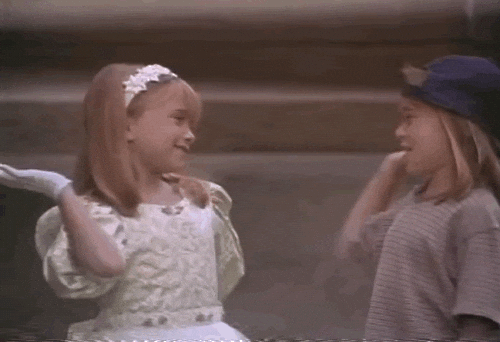 To preface, let it be known that the majority of my "90's" inspiration is more It Takes Two or Now and Then than Clueless (perhaps because I was between the ages of 2 and 11 during the nineties, so clearly I identify more with the former–I probably should've been holding a Popsicle in these pictures instead of an iced coffee and then I would've been REALLY authentic.)
Basically, we have the 90's resurgence to thank for a lot of my favorite styles right now–and they're a lot more wearable than you might think! Here are three of my favorites:
Throwback Levi's:
There is nothing more 90's than Levi's "Mom Jeans"–luckily, they're a little more tailored and tasteful this time around. Sure, there are plenty of cool girls out there who pull off wearing their pants 5 sizes too big and ripped to the point where my grandpa is likely rolling around in his grave ("Did they give you a discount for all the holes in those pants?") but I am certainly not one of them. I do however, thank the 90's for re-popularizing my favorite style of jean–the Levi's Wedgie Jeans. 
These are, what I like to think of as–"the mom jeans for real people"– they're definitely on-trend, but not so much so that you'll feel silly wearing them. On the contrary, actually, they are INSANELY flattering on pretty much every body type I can think of. They define your waist, elongate your legs, hug your curves in all the right places, and make your butt look awesome. You know you're onto a great trend when your husband actually approves! 😉
The cool (and maybe overwhelming?) thing about Levi's is that there are SO MANY STYLES. Some of them are more expensive than others (which I cannot figure out) but I actually scored these brand new on eBay for HALF the price I found them anywhere else! Huzzah! I know everyone thinks eBay is for second hand or vintage stuff (I use it for that too!) but the majority of their inventory is actually new!
90's Logo tees:
Okay okay, at first I resisted this one, but I've come around and now I'm really into the logo tee. The Tommy Hilfiger tee is nothing if not nostalgically charming. (I have a vivid memory of this one Tommy Hilfiger tee I wore with everything–including my favorite denim skort, and ALWAYS butterfly clips–one hot 1990's summer). I love the classic red white and blue color scheme and let's be honest, it's about as "classic" as a "trend" could get. (So, yeah, this is my way of basically "backing in" to being trendy.) I got this tee for on eBay as well–they have a ton of Tommy Hilfiger tees!
I also am loving the vintage inspired band tee, also popular the 90's–Junk Food is my favorite brand who makes them (I have two!) and they also have a bunch on eBay!
Sneakers 24/7:
It's not JUST those awful giant chunky sneakers that fall under the "90's" category–I spent pretty much the entire decade in sneakers (okay, and Jellies, but let's hope those don't come back) paired with pretty much EVERYTHING–not just with jeans like you see here, but also with cute little feminine dresses and skirts. (See more about that in this post on my Juxtaposition Rule I use when getting dressed!) Wear them often and wear them with everything! After all, my first "Tomboy Style" idol was, in fact, Amanda Lemmon.
I love a good white sneaker–here I'm wearing Jack Purcells (also one of my favorite pairs of shoes I took to Italy! See more in my Italy packing post!) I also love classic Keds, Converse and Supergas! Shoes are one of my favorite things to scope out on eBay because you can often find the pair you're looking for, new with the box for less than you would elsewhere!
Tips on getting the most out of eBay: 
I have shopped on eBay for YEARS and have always loved it for a few reasons:
1. I can get new items for less than I would elsewhere (especially on their Daily Deals page!) 2. I can often find items that I didn't snag before they sold out at the other retailers, but I still want to get my hands on. 3. I can find brand new, unopened packages of beauty products for a lot less here, too. (Especially perfume!)
When you're searching for a particular item, start broad with your search terms, then use the filters on the left to narrow down what you're looking for. Here are the most common filters I use:
New and New with tags: 
If you're only interested in brand new items, you can select "new with tags" or "new without tags" (note–"new without tags" is where you'll find the best deals! Tags=more money!) Regardless of whether it has tags or not, you'll often find brand new items for a lot less than you could find them at other retailers! You can get a Barbour coat, for example, at $150-$200!
Shipping: 
The next filter I'll add is shipping. You can find a lot of free shipping on eBay, so I'll add that option first, and if I don't see what I'm looking for, then I'll remove it and instead, update the location:
Location: 
I'll typically check the "US" box if I don't want shipping options to show up from other countries (for example, I'm not interested in t-shirts coming from Australia because sometimes the shipping is more expensive than the shirt!) This location is also helpful if you're shopping for home goods like furniture and decor, because you likely won't want to pay an arm and a leg to have furniture shipped to you!
Would you wear any of these 90's "trends"–have you shopped on eBay before? Let me know if you have any specific questions in the comments below! 
This post is sponsored by eBay–a retailer I've shopped for years! Thanks for supporting the brands that support GG!